When we're infants, we have all of this brain material compacted in a small space. Like tree branches, they overlap. That garbled anatomy makes it difficult to do some things, such as making decisions, because the jumbled structures crossing one another make it nearly impossible for our brains to focus on one thing.

As we get older-3, 4, and 5 years old-our brain starts deciding which branch points get developed and which sort of fall off. So the more we use certain parts of our brain as toddlers, the more we develop those kinds of neurons, while the opposite holds true for those neurons we don't use. The way we train our brains at an early age actually has an effect on which of those neuron systems will become good and strong and which won't.

In autistic children, the current best theory goes, those underused links don't fall off, meaning the jumbled mass makes it more difficult for autistic children to focus because too much is going on. This is different from Attention Deficit Disorder, which affects the ability to concentrate. Many of us actually had it as kids (but it was rarely diagnosed years ago), and difficulty concentrating on only one subject can be something we even carry into adulthood.

That explanation of neurological development can partly explain why our brains function in certain ways as we age. If we didn't listen to music as a child, or learn how to ski, or learn to speak French, then it becomes more difficult to learn those things as an adult because those neuron connections aren't developed for processing the necessary information.

http://www.amazon.com/YOU-Updated-Expanded-Insiders-Healthier/dp/0061673161
In the field of neuroscience, there have been some exciting and fascinating discoveries about how children's brains develop. New technologies such as positron emission tomography (PET) and functional magnetic resonance imaging (fMRI) have been able to show that intellectual growth actually results in physical changes in the structure of the brain. So, when your child learns something new, his or her brain makes changes in the way the brain is organized. Also, this technology has shown that the various parts of the brain are ready to learn at different times. This may indicate why children's intellect develops the way it does, and why certain milestones tend to occur around the same time for everyone.
From Good Kids, Bad Habits: The RealAge Guide to Raising Healthy Children by Jennifer Trachtenberg.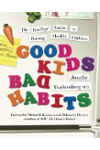 Continue Learning about Brain Health