The brain changes with age by showing signs of wear and tear, just like every other region of the body. In addition, the volume of the brain and/or its weight declines with age at a rate of approximately 5% per decade after age 40. The medical term for this is atrophy. It has been suggested that a decline in neuronal volume rather than number contributes to the changes in an aging brain and that different areas may be affected in men than in women. The most widely seen cognitive change associated with aging is that of memory.
Just like a house built in the 1920s has a different wiring capacity from one built in this decade, your brain has different power capacities as it ages. See, an older home could function fine with its original electrical system when all it had to handle was a refrigerator, a coffee pot, and a little Ed Sullivan. But if you were to try pumping up an old house with computers, surround sound, and your 8-year-old's video-game setup, it would shock and overload the electrical system, blow a fuse, start a fire, and burn down your whole house. On the other hand, a young house is equipped to withstand all of modern society's demands, so it can supply power to everything.

Your brain works the same way. In fact, most brains don't age very well at all under normal circumstances. Younger brains are equipped to handle overloads with only an accidental glitch here and there, but older brains need upgrading to avoid neurological blown fuses and major power outages.

Luckily, cognitive upgrading-by doing many things that can help your brain stay sharp-doesn't require a subcontractor. It's a do-it-yourself project that has many wonderful outcomes: It will keep your brain function high throughout your life, it will minimize the deterioration that takes place as part of the normal aging process, and it will help re-grow brain cells to keep your mind as sharp as a coral reef.

A decrease in brain function isn't inevitable and involuntary; you have the ability to influence what side of the roller coaster your brain function rides-steadily moving up, or going downhill fast. What's best is that you don't need to be a Rhodes Scholar to stay mentally strong. Simple changes can do the trick. Physical activity, for one, improves arterial function, and better arterial function improves brain function.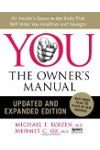 Historically, scientists have thought that a person was born with a maximum number of neurons and you would slowly lose them over a lifetime. Although brain activity during the first few years of life is intense, it has been clearly shown that the brain can change at any age -- for better or worse.
Continue Learning about Brain Health