Research has shown that higher levels of social engagement are associated with reduced risk for memory loss. Also, being with others gives us a great "skills" workout, as you really can't be social without staying focused, thinking fast and keeping your mind nimble. Staying social also exposes us to different experiences or ways of thinking, which is great for our intellectual engagement. Finally, our brain benefits from the "intangible" side of staying social, by lowering our risk for emotional distress.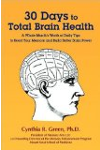 More About this Book
30 Days to Total Brain Health®
Get ready to make the move to better brain health! In this remarkably effective, scientifically-grounded plan, Dr. Cynthia Green, a clinical psychologist and one of the country's most notable experts...
Continue Learning about Brain and Nervous System