The development of a healthy sense of self is a complex process that begins when children are infants and continues late into adolescence and early adulthood (and even beyond). Every child is unique in exactly how this process is achieved, but you can look for general milestones in each age group. Parents can greatly influence this process, so I encourage you to set the foundation for your kid's healthy self-esteem by being a consistent, nurturing, and responsive parent throughout your child's upbringing... even when they say they don't need you anymore!
For children between the ages of 5 and 8, self-evaluation generally occurs in these five areas: physical ability, physical appearance, acceptance by peers, mental ability, and behavior. They don't seem to notice that these characteristics may vary according to the situation, and they are very much black-and-white when it comes to rating themselves. They are either "good" or "bad" athletes, or "good" or "bad" at math. They don't recognize that there are grey areas or that their abilities might change according to the situation.
Although kids do acknowledge similarities and difference among their peers, their greatest measure of achievement is not in comparison to others, but in comparison to what they are able to do when they were younger.
Kids at this age also have a very high, perhaps even unrealistic, perception of themselves, so low self-esteem is rarely an issue.
From Good Kids, Bad Habits: The RealAge Guide to Raising Healthy Children by Jennifer Trachtenberg.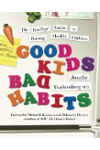 Continue Learning about Boosting A School Age Child Self-Esteem