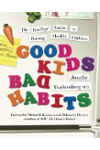 Initiating conversations with your children let them know that you're interested in their lives, respect what they have to say, and love them for who they are. Kids who have ongoing conversations with their parents are more likely to have healthy views of themselves.
Here's a really simple thing you can do to help boost your child's self image: Ask his opinion. Showing interest in what your child thinks about anything -- from which movie to see or what color to paint the bedroom -- will help him feel like an important and valued part of your family.
From Good Kids, Bad Habits: The RealAge Guide to Raising Healthy Children by Jennifer Trachtenberg.