Here is a behavior makeover that not only helps your child recognize his personal talents but also boosts his self-esteem. There are three parts.

1. First: Identify your child's positive qualities or strengths that do deserve recognition. Is she artistic, musical, kind, honest, reliable, graceful, organized, friendly, positive, sensitive, courageous, spiritual, loving, sensitive, resilient, persevering, hard-working. Choose one - but no more than two assets you want your child to recognize about herself right away.
2. Next: Start acknowledging the strength. At first give one strength messages a day and gradually work your way up to two to four reminders. Make your praise specific by adding "because": "You are so graceful because your body moves so smoothly to the music." "You're very artistic because your drawings have such great color combinations."
3. Strengths must be nurtured so find ways to cultivate your child's so he can demonstrate it to others. If you have a budding artist, give him art lessons and take him to that museum; your little athlete might enjoy that summer soccer camp.

Every child deserves to wake up each morning knowing she is special. By helping your child recognize her unique talents and specifically praising the asset you will enhance your child's strength awareness as well as increasing her self-esteem.

You can find more behavior makeover tips in the book, No More Misbehavin.' Whatever you try remember to consistently use the method until you do get the change you want.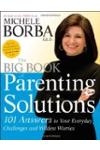 Continue Learning about Boosting A School Age Child Self-Esteem