With muscle, you truly will lose it if you don't use it. Have you ever had your arm or leg in a cast? Do you remember how tight the cast was against your skin when the doctor put it on? Perhaps it even felt confining and uncomfortable. Within a week or so, the cast became looser, and you could see clear space between it and your skin. This was the result of disuse atrophy of the muscle. Essentially, this is what happens to your entire body if you don't actively use your muscles.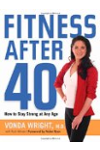 More About this Book
Fitness After 40: How to Stay Strong at Any Age
It's one of the undeniable facts of life. After we reach a certain age, our bodies change. No matter how fit we may have been at 20, we're very different people after 40. But growing older doesn't...
Continue Learning about Healthy Bones, Joints & Muscles
Good nutrition -- especially calcium and vitamin D -- is very important to healthy bones and muscles, as is regular exercise and keeping weight under control. This lifestyle is especially important in childhood and teen years, whe...
n bone strength is developing most rapidly -- and can help prevent osteoporosis (brittle bones), fractures, and painful osteoarthritis (degenerative joints) later in life.
More