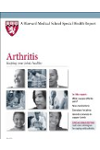 There's no doubt about it: joints can be noisy.

As a general rule, if there is no pain and the joint is working well, there is little reason for concern.

Many people regularly crack their knuckles. Others can make their wrists or knees click on demand. The source of these sounds is often uncertain.

In the case of cracking knuckles, gas bubbles in the joint burst when the joint space is expanded a bit, such as by stretching a finger back.

In other cases, the noises seem to come from a tendon rubbing over a bony bump. These are generally considered harmless. There's good evidence that cracking knuckles does not cause arthritis or other joint problems. (This is true as long as the action used to crack the knuckle is not extreme. It's rare, but joint dislocations have been reported.)

There are times when noises coming from joints are a concern. A popping or cracking sound during an injury may mean a torn ligament or fractured bone. A clunking or grinding noise coming from the joint of a person with significant arthritis may be a sign of severe joint damage. But these cases usually come with severe pain, instability or not being able to use the joint.

While we don't always know where the noises come from, it seems clear that if there are no other symptoms, most joint noises can safely be ignored.