To test your forearm rotation, place your shoulder blades at about three inches from your spine and at approximately T2 (second thoracic vertebra) or T3 (third thoracic vertebra). Next, simply place your elbows at your sides, bent at 90 degrees with your thumbs pointing up toward the ceiling, and stabilize your shoulder blades so your upper arm does not move. Rotate your hands so your palms are facing down (pronated). Look at your wrist bones. Are they completely rotated? Did your elbows slightly slide away from your trunk while you did this? Was it difficult to maintain the correct scapular position? If so, retest without allowing your elbows to move and with your shoulder blade stabilized.

Don't measure rotation based on whether your hand is palm down, as your hand can rotate further after the wrist has stopped. Instead, use the wrist bones as your guide. I like to use a ruler that sits across both wrist bones to help me see what's going on. If you see the ruler isn't horizontal after testing, then the rotator muscles are likely too short and forearm rotation has been compromised. Also upper arms and/or shoulders that aren't properly positioned or stabilized can give a false result.

Next, rotate your hands so your palms are facing up (supinated). Again, check your wrist's angle, not your palm's angle, using the ruler as your guide. Did your elbows slide toward your trunk while testing this motion? If so, retest with your arm bone and shoulder blade stabilized.

How did you do? Did you find that you had to work hard to control your shoulder blade and elbow while testing? If so, chances are your forearm's rotator muscles are tight and need to be stretched, even if your forearm was able to rotate fully.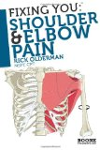 Continue Learning about Healthy Bones, Joints & Muscles