The best ways to increase your child's bone strength are making sure he gets enough calcium and encouraging weight-bearing exercises -- that is, moves like running uphill and jumping, which stimulate bone growth. More About this Book
YOU: Raising Your Child: The Owner's Manual from First Breath to First Grad
Picking up where YOU: Having a Baby left off, the New York Times #1 bestselling authors of the YOU health series present the ultimate parent's guide to raising a happy, healthy child. Dr. Mehmet Oz—host of television's The Dr. Oz Show and a daily Sirius/XM radio program for Oprah Radio—and Dr. Michael Roizen—chief wellness officer and chair of the Wellness Institute of the Cleveland Clinic— have sold millions of books informing readers about healthy dieting, aging, and overall health. Now the Docs provide invaluable advice to help parents understand the biology and psychology of raising a happy, healthy child from birth to school age. The authors address everything from troubleshooting infant health issues to supporting the emotional and intellectual development of your child. Included are discussions of healthy nutrition, milestones for physical activity, building good habits, taking care of YOU, and how to cope with the biggest ailments and fears parents face today. The book is filled with wisdom and age-specific advice that will help parents manage all kinds of child-rearing questions and issues. In YOU: Raising Your Child, America's most trusted doctors once again come to the rescue with the biology, psychology, and insider wisdom of providing a healthy and enriching environment.
Think of bone as a savings account; your kids are making deposits and withdrawals of bone tissue. During childhood and adolescence, more bone is deposited than withdrawn as the skeleton grows in both size and density. A diet rich in calcium keeps withdrawals, or bone loss, to a minimum by providing minerals that buffer the acids produced by other portions of the diet, such as protein. Kids with the highest peak bone mass after adolescence have the greatest protective advantage in terms of future bone health. Optimizing bone health early in life is crucial in preventing future fractures and osteoporosis.

If your child isn't drinking milk or eating any other high calcium foods, such as yogurt, cheese, or calcium-fortified orange juice, a multivitamin with vitamin D and calcium supplement is essential.

From Good Kids, Bad Habits: The RealAge Guide to Raising Healthy Children by Jennifer Trachtenberg.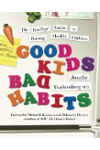 Continue Learning about Healthy Bones, Joints & Muscles