Why can a herniated disk cause leg pain?
When the soft center of a spinal disk is pushed out, it can put pressure on a spinal nerve emerging. And this can send searing pain down the back of the legs. Watch as Dr Oz talks about herniated disks.



Continue Learning about Joint Health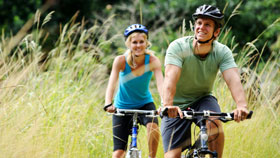 Standing, bending, climbing, walking, running, jumping, lifting a baby -- so many of our daily activities require healthy, functional joints. While some joints (like the knees) provide stability, others (like the wrists, ankles an...
d hips) enable us to move. Learn how to protect your joints from injury and keep your joints healthy for life.
More