Computer-assisted navigation in spine surgery is where surgeons obtain images using an O-arm or Arrow Machine in the operating room and obtain computed tomography (CT) type images, and import them into the computer. Once the images are in the computer, surgeons are able to get three-dimensional images that can be used during spine surgery to place screws and implants accurately. This has been shown to have high accuracy, with 96 to 99 percent accuracy of placement of screws. So, this is very useful for difficult, altered or atypical anatomy, especially in places that can't be seen very well with conventional techniques such as x-ray or fluoroscopy in the operating room.
Continue Learning about Joint Health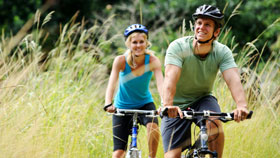 Standing, bending, climbing, walking, running, jumping, lifting a baby -- so many of our daily activities require healthy, functional joints. While some joints (like the knees) provide stability, others (like the wrists, ankles an...
d hips) enable us to move. Learn how to protect your joints from injury and keep your joints healthy for life.
More