The goals of spondylolisthesis surgery are to decompress the spinal nerves and to stabilize. Stabilization requires fusion. Significant spondylolisthesis that causes severe stenosis posteriorly would require what's called a laminectomy and fusion. Doctors remove the back portion of the spine that is compressing the nerves, and realign the spine by removing the incompetent disc and replacing it with a spacer, such as a cage or bone. Then pedicle screws and rods are placed to help stabilize the segment and allow it to fuse.
Continue Learning about Joint Health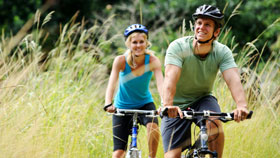 Standing, bending, climbing, walking, running, jumping, lifting a baby -- so many of our daily activities require healthy, functional joints. While some joints (like the knees) provide stability, others (like the wrists, ankles an...
d hips) enable us to move. Learn how to protect your joints from injury and keep your joints healthy for life.
More