What is degenerative disc disease (DDD)?
Degenerative disc disease (DDD) is back pain that everyone gets at some point in their lives. Watch Brent Morgan, MD, medical director of neurosurgical services at Medical Center of McKinney, explain how it's caused and whether it needs treatment.
In disk disease, the cartilage disk that is the cushion between two vertebral bones becomes weak, and the contents of the disk protrude to cause pressure on a nerve coming from the spine. This happens most commonly in the lumbar spine of the lower back, resulting in lower back pain and pain that travels down one or both legs. It can also affect the middle, upper back, or neck portions of the spine.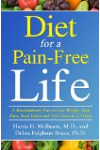 More About this Book
Diet for a Pain-Free Life
Do you wake up each morning aching with joint or muscle pain and have trouble falling asleep at night? Have you been trying to lose stubborn belly fat and extra pounds for years? Do you wish you could be active without pain medications? And did your pain and weight increase once you hit middle age?Look no further: Diet for a Pain-Free Life is the simple-to-follow, doctor-designed solution to improve your health. As a leading rheumatologist, Dr. Harris McIlwain has spent more than 20 years studying the overweight-inflammation-chronic pain connection. Now, he shares his revolutionary prescriptions in this proven lifestyle plan that will help you drop pounds and decrease pain at the same time. Learn the secrets of how to: o Eat well and lose weight—even if you have never been able to succeed on a diet beforeo Exercise your pain away—even if you dislike traditional exercise, or if your pain makes movement difficulto Stop the stress-pain connection—even if you're overworked and easily stressedo Improve the quality of your sleep—even if you suffer from insomnia or other sleep conditions
Degenerative disc disease is basically wear and tear or arthritis of the discs, which are the cushions between the bones in your spine. You have discs all the way from the top of your neck to the bottom of your lower back, and these are baring the load of your body weight whenever you're walking, standing, sitting and doing any activities. When these begin to deteriorate, we call this degenerative disc disease.
As to the definition of degenerative disk disease, it should be noted that degenerative disk disease is simply age appropriate degeneration of the spinal or vertebral disk that serve as shock absorbers between vertebrae which are the bones that make up the spine. Over time the disk lose integrity, both its fluid content and its plasticity or its flexibility thereby leading to changes in the orientation from vertebrae to vertebrae which also changes the orientation of the spinal canals which is where the spinal nerves exit and the combination of these changes certainly can contribute to low back pain. Osteoarthritis which is basically arthritis brought on by wear and tear, this wear and tear can certainly contribute to micro injury to the disk itself and again secondary to changes in the architecture of the disk itself can lead to changes in the orientation from vertebrae to vertebrae which affect the spinal canals and can cause an irritation and inflammation in the areas of the back that are affected by this difficulty. These changes are seen quite frequently in people who are heavy smokers, overweight, sudden losses or gains in weight, and in also people who perform improperly heavy lifting due to poor body mechanics, etc.
Degenerative disk disease refers to a process of weakening and breakdown of the intervertebral disks in the spine. Watch the animation to see how this happens.




Continue Learning about Joint Health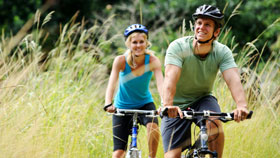 Standing, bending, climbing, walking, running, jumping, lifting a baby -- so many of our daily activities require healthy, functional joints. While some joints (like the knees) provide stability, others (like the wrists, ankles an...
d hips) enable us to move. Learn how to protect your joints from injury and keep your joints healthy for life.
More