Some overuse injuries of the foot and ankle are from running and jobs requiring many hours on their feet. Watch Conan Parke, DPM, from MountainView Hospital, describe why these injuries are becoming more popular.
Some overuse injuries of the ankle include tendinitis (inflammation of the tendons). Common areas of tendinitis in the ankle are to the anterior tibialis (top or dorsal side of the ankle), posterior tibialis (medial/inside side of the ankle), peroneals (lateral/outside of the ankle) and the achilles (back of the ankle).

Some overuse injuries of the foot include retrocalcaneal bursitis (between your calcaneous and Achilles tendon), Server's disease (chronic inflammation of the Achilles tendon attachment), plantar fasciitis (bottom medial/inside part of the foot), Morton's neuroma (mass of tissue in the plantar nerve, usually between the 3rd and 4th metarasal heads which is below the toes) and Turf Toe (sprain of the great toe).
Continue Learning about Joint Health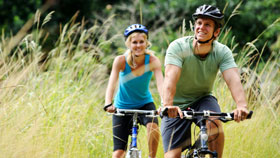 Standing, bending, climbing, walking, running, jumping, lifting a baby -- so many of our daily activities require healthy, functional joints. While some joints (like the knees) provide stability, others (like the wrists, ankles an...
d hips) enable us to move. Learn how to protect your joints from injury and keep your joints healthy for life.
More