Take these steps to prevent nighttime leg muscle cramps:
Eat a balanced, healthy diet that is rich in calcium, potassium and magnesium.
Maintain an exercise program that focuses on stretching and strengthening the muscles.
Drink plenty of water and other fluids, including sports drinks with electrolytes. Choose a sports drink that is low in sugar or dilute it with water.
Limit or avoid drinks with alcohol.
Partner with your doctor to determine if taking a daily multivitamin supplement is a good option.
Review your medications with your doctor to identify those that may be causing muscle cramps.
Implementing healthy lifestyle habits will help you maintain maximal health. This includes strengthening your body as well as stretching your muscles every day, especially before and after exercise and at bedtime. If you're beginning a new fitness regimen, be sure to start gradually to reduce the chances of muscle cramping.
Leg cramping at night can be caused by overuse, dehydration or inactivity. In this video, I will explain how to stop your nighttime leg cramps.
Continue Learning about Joint Health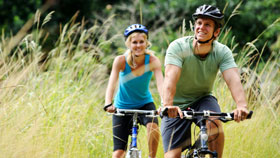 Standing, bending, climbing, walking, running, jumping, lifting a baby -- so many of our daily activities require healthy, functional joints. While some joints (like the knees) provide stability, others (like the wrists, ankles an...
d hips) enable us to move. Learn how to protect your joints from injury and keep your joints healthy for life.
More