Degenerative disc disease is initially treated with conservative care. We reserve surgical treatment as the very last step. We recommend eating healthy, losing weight if you are overweight and a regular exercise program to improve support to the spine.
Basically the degenerative disk disease is treated in various ways. After imaging has been performed to diagnose degenerative disk disease either by a known, very visible loss in disk height with a plain x-ray or with an MRI showing a loss in disk height and actually a damaged disk, it should be treated in the following ways.
Certainly nonsteroidals are a first line along with either ice or heat. Medicines meant to control spasm can certainly be helpful but reducing the inflammation is the first line in medicine that is addressed in these kinds of difficulties. If a patient does not get relief from oral nonsteroidals, they can certainly progress to steroids. Oral steroids in the form of prednisone may be given on a gradually tapering schedule and may provide relief. If oral medications fail, epidural steroid injections may be recommended to assist in the reduction of inflammation.
If the disk disease is of such severity that it is affecting motor function, in the case of cervical disk disease it could affect the patient both in the upper and lower extremities. In the low lumbar areas, it is typical to have a loss in power in the lower extremities including the production of foot drop and/or a decrease in hip muscle function. Affected patients may benefit from surgery to remove the damaged disk and stabilize the spine.
Continue Learning about Joint Health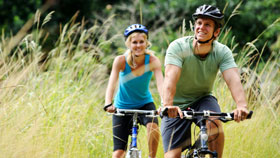 Standing, bending, climbing, walking, running, jumping, lifting a baby -- so many of our daily activities require healthy, functional joints. While some joints (like the knees) provide stability, others (like the wrists, ankles an...
d hips) enable us to move. Learn how to protect your joints from injury and keep your joints healthy for life.
More