The symptoms of a herniated disc may improve without treatment even if the disc herniation does not decrease in size. Sometimes, magnetic resonance imaging (MRI) will document that a disc resorbs or gets smaller. However, this is not very common.
Two well-known but rarely discussed attributes of herniated discs are their transient nature and your body's ability to remedy them. It is entirely possible that a herniation of the nucleus pulposus (HNP) will appear one day and months later a follow-up magnetic resonance imaging (MRI) will show no evidence it ever existed. A study of 48 confirmed herniated discs found on follow-up that 9 decreased in size by 25 percent, 8 decreased in size by 50 percent, and—here is the most astounding figure—31 decreased in size by 75 to 100 percent, and the largest herniations decreased the most. Because follow-up MRIs are seldom done in private practice, doctors usually don't get to see such dramatic results.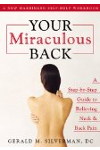 The majority of patients can improve herniated discs through medications and/or therapy. A surgical intervention may be necessary.
Continue Learning about Joint Health