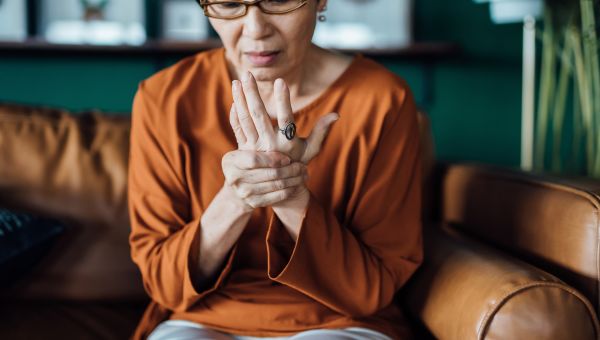 The number of Americans with arthritis has jumped (again), and experts say our lifestyles—too much weight, too little activity—have a lot to do with it.
In their latest update of arthritis estimates, the Centers for Disease Control and Prevention (CDC) looked at data from the 2010-2012 National Health Interview Study. They found that about one in four adults (53 million) now say they've been diagnosed with some form of arthritis, and about 10 percent (23 million) say the condition makes everyday activities like climbing stairs, getting dressed and doing housework difficult. The latter number is already ahead of projections for 2020.
The main culprits? Obesity and aging. Both are leading causes of osteoarthritis, the most common kind of arthritis, which involves the wear and tear of joints. As the Baby Boomers age, more people are suffering from osteoarthritis, and excess weight is speeding up the process. Consider: Every pound of extra weight adds four pounds of stress on your knees. Over time, that takes a toll on your joints: Obese people are more than twice as likely to develop osteoarthritis in the knees and hands.
The report also included conditions such as rheumatoid arthritis, gout, lupus and fibromyalgia.
What You Can Do
Unfortunately, there's no way to flip the aging switch off, but there are a few things you can do to help prevent or live with arthritis:
Exercising can help keep your joints limber and ease pain. The CDC recommends at least two and a half hours of exercise per week of low-impact exercise for people with arthritis. Try going for a walk or taking a swim. But don't overdo it if you've already got arthritis.
Lose weight. Just getting rid of a few of the extra pounds can go a long way.
Try these foods to give your joints some love. Not only will they help your joint pain, but because they fight inflammation, they can help your body in other ways, too.
Reduce your stress level. Feeling frazzled can make your osteoarthritis pain worse, so relax with a massage, yoga or a bit of meditation.
Medically reviewed in November 2019.