To prevent a shoulder injury, one of the most important things you can do isn't wearing shoulder pads (unless you're playing for Cal State). It's strengthening and stretching your rotator cuff muscles to help give you a good range of motion around the joint. To test your own range, stand with your arm out to your side and your upper arm parallel to the floor (like you're taking an oath on the witness stand). Without moving your upper arm, rotate your shoulder forward and backward - you should be able to get at least 180 degrees of rotation. If you can't, try this move to help give you some flexibility: Lie on your side with your upper arm on the floor and your elbow bent at 90 degrees. With the opposite arm, push down on your hand and hold the stretch for 30 seconds.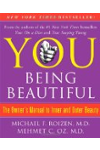 People can prevent shoulder injuries by stretching, exercising and maintaining good core strength.
The best way to prevent shoulder injuries is to strengthen the weak muscles(rotator cuff, rhomboids and lower trapezius) and stretch the overactive muscles(pectoralis major/minor and latissimus dorsi). A simple routine includes a door way stretch for the pectoralis major and minor. This is done by bending the lower arm to 90 degrees and placing the elbow in the door frame with the arm parallel to the ground. Moving slightly forward and rotating away from the arm will provide a stretch. Follow this with a latissimus dorsi stretch by getting on all fours(hands and knees). Place your fully extended arm on a ball or chair that is set at your shoulder height in the kneeling position. Stretch these two areas for 20 to 30 seconds and 2x each. Follow the stretching by doing two sets of 10 to 15 reps of rotator cuff strengthening. This can be done with tubing and working internal rotation(pulling your arm toward your body while keeping your elbow at your side), external rotation(pulling your arm away from your body while keeping your elbow at your side. These are four easy things to start with and more stretches/exercises can be added if needed.
Continue Learning about Bone & Joint Injuries