What exercises can I do after knee or hip replacement surgery?
The exercises you are able to complete will depend on how quickly your body heals from the surgery. Prior to completing any forms of exercise, be sure to receive clearance from your surgeon. Following, meeting with a physical therapist is a great choice as they will be sure you are working within your limits and making sure you receive full benefit.
Some forms of exercise that you may be able to complete include:
Aerobics such as walking
Water aerobic
Light strength training
Golf
Tennis
Cycling
Again, getting clearance from your surgeon is ideal to make sure you are ready to return to exercise.
Preferred games for people with replacement knees include:
• Aerobics
• Cycling
• Dancing
• Golf
• Horseback riding
• Skiing
• Walking
• Swimming
• Tennis

Preferred games for people with replacement hips include:
• Aerobics
• Cycling
• Dancing
• Golf
• Swimming
• Tennis
• Walking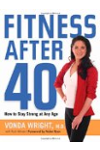 More About this Book
Fitness After 40: How to Stay Strong at Any Age
It's one of the undeniable facts of life. After we reach a certain age, our bodies change. No matter how fit we may have been at 20, we're very different people after 40. But growing older doesn't...
Continue Learning about Bone & Joint Injuries

Often caused by falls, trauma, or injury, bone and joint injuries can sometimes be serious enough to require surgery. A broken bone can occasionally puncture your skin, causing intense pain. If you suspect that you have a broken b...
one, you will need medical treatment right away. In serious cases, pins, screws, and plates are placed into the body to stabilize the bone and help it heal. Joints connect our bones, and joint injuries can often occur in the elbows and knees. To reduce your risk of joint injury, stay healthy. Staying at a healthy weight and keeping your muscles strong and fit reduces the wear and tear on your joints.
More