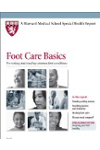 I assume that both your feet are swollen. This is important to note because new swelling in just one foot can be caused by a blood clot in the leg or by an injury to the foot or ankle. When both feet are swollen, the cause is almost always fluid retention in the legs.
The most common reason for swelling in both feet is "incompetent" valves in the leg veins. The leg veins return blood to the heart after the blood has delivered oxygen and nutrients to the foot and lower leg.
Unlike the arteries, the veins can't rely on the pumping action of the heart to move the blood in the right direction. The veins need the valves to stop blood from backing up. Many people have malfunctioning vein valves. This can cause back pressure in the veins, which leads to fluid leaking out of the bloodstream and into the feet. Often varicose veins are seen.
Other reasons for swelling in both feet include:
Heart conditions, specifically heart failure
Severe lung disease
Kidneys that are not functioning normally
Anemia
Malnutrition
An underactive or overactive thyroid gland
Usually there will be other symptoms with the above health problems, not just swollen feet.
You can decrease your swelling by wearing support stockings. You can also elevate your feet above the level of your heart whenever you sit down. Your doctor may prescribe a low-dose water pill (diuretic) if you still cannot control the swelling.