The myth of thinness is: If we achieve the body of our dreams, we'll live happily ever after. After all, models and movie stars seem to lead charmed lives. So it's natural to assume that if our bodies looked like theirs, our lives would be great, too.

The rub is that media images of hyperthin female bodies create an impossible standard for most women to attain. For diet programs, gyms, and spas, this myth means money in the till.
It keeps us striving, and if we're striving, we're also buying.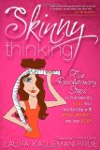 Continue Learning about Body Image