Also from my personal standpoint there is a gigantic difference between ideal body size for health and ideal body size based on our society. Our society can cause a false perception of health for many people.
Just because you are skinny does not mean that you are healthy. The ideal body size will vary greatly for each person but I have my clients keep three things in mind.
Be progressive -- constantly make small improvements in their fitness and health (remember this can only be done if you measure your progress in both)
Measure your progress. Get regular check-ups from your doctor, test your measurements and body fat and record your calories in versus calories out
If what your doing is too restrictive or too extreme it is not good for you. You must be in an active / healthy fitness program that you can maintain throughout your life. Anything too restrictive or extreme can not be maintained long-term.
Some people say their family has big bones or big cells. Some say their family has big appetites. Some say their family just has big beer coolers. If you gained weight as an adult, you can get a relatively accurate picture of what your ideal size should be by thinking about what you looked like when you were 18 (for women) or age 21 (for men)—a time when you were at your metabolically most efficient and when you weren't stapled to an office chair for 60 hours a week.

Most people gain their weight between the ages of 21 and 60, so by looking at your size at 18 or 21, you'll have a good, though not quite scientific, idea of your factory settings. It's not perfect, but it's a thumbnail sketch of where you want to be. Ask your parents about their body size—or find pictures of them—when they were 18, to help give you a good idea of what you're supposed to look like.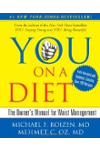 Continue Learning about Body Image