Stand in front of a mirror. Naked. Without sucking in your belly. Now draw an outline of your body shape, both from the side and front views. Ask a partner or close friend to look at the shape you drew and tell you—honestly—if that's approximately what your body looks like. (Your clothes can be back on at this point.)

This is just a quality-control check to make sure you have an accurate self body image (those with eating disorders have very distorted body images, making it an obstacle for getting back to a healthy weight). This might be the first time you've ever had to articulate things about what your body looks like—and that's good.

For some of you, this assignment may feel natural, but for most, the exercise is as uncomfortable as a coach-class airline seat. I'm having you do this not to benefit the neighborhood peepers, but for other reasons.

First, I want you to realize that I'm going to be emphasizing healthy weight—not fashion-magazine weight, not featherweight. Healthy weight. And I think that means you have to start getting comfortable with the fact that every woman isn't as light as a kite and every man won't have the body of Brad Pitt. Where you want to be may not be exactly where your body wants you to be. I'm not saying you need to accept a belly that looks like four gallons of melted ice cream, but I want you to get closer to your ideal health—and that means physically and emotionally.

Second, I want you to look at your body. Really look at your body, as it genuinely is.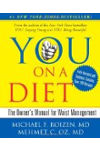 This is a tough one because there is no "perfect index" of body image, and there are infinite numbers of body types. What really makes it difficult is that so many people are wedded to a singular ideal (very thin) that most accurate estimates of body images are skewed from the beginning. Also, body image is an evolving issue, shifting throughout life with age, circumstance, health issues etc. One of the biggest keys to answering this question is ACCEPTANCE. Are you accepting of your body? Are you able to make changes in the name of HEALTH and not just appearance? Are you frequently criticizing your body to others, and receiving feedback to the contrary? Are you preoccupied with your body image? Typically preoccupation is associated with inaccurate body image. Are you based in reality? (e.g. being informed you may be overweight or underweight by a health care practitioner who has corroborating health data. In general, preoccupation with body image is associated with inaccuracies in body image. And it is a psychological shift: appreciating one's self and changing one's thinking can lead to greater accuracy in perception and more healthy body image.
Continue Learning about Body Image