Alemtuzumab is one of the more effective treatments for preventing MS relapses. It is more effective than interferon beta-1a for reducing relapses, and people who have had alemtuzumab treatment have less disability. MRI signs of MS-related nervous system damage are also lower in people who have had this treatment.
This answer was adapted from Sharecare's award-winning AskMD app. Start a consultation now to find out what's causing your symptoms, learn how to manage a condition, or find a doctor.
Alemtuzumab is a monoclonal antibody usually classified as an immunosuppressant. In a study of 29 secondary-progressive multiple sclerosis (MS) patients who received a five-day pulse of the drug, alemtuzumab improved magnetic resonance imaging (MRI) and clinical markers of disease for at least eighteen months following treatment. However, 15 patients continued to experience progressive disability. More ominously, one third of treated patients developed autoimmune hyperthyroidism. In early active relapsing-remitting MS, the drug reduced relapses 75 percent and the risk of disability 60 percent, compared to interferon beta-la. However, 3 patients developed ITP, a condition that reduces platelet count and may cause abnormal bleeding. One patient died. Use of alemtuzumab has been temporarily suspended, while dosing and toxicity issues are addressed.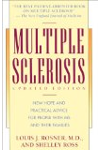 More About this Book
Multiple Sclerosis
Too often, multiple sclerosis is thought of only as "the crippler of young adults." But in fact, 75 percent of all people with MS will never need a wheelchair. In Multiple Sclerosis, Dr. Louis J....
Continue Learning about Blood Modifier Agent