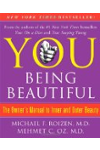 The eyes are the first part of the face that hints at aging because extra skin on the upper lids can accompany those little crinkles in your lower eyelids, giving you the "always tired" look. And, like a hernia, fat of the lids pushes through your weakened skin. So there's good reason why 241,000 people had blepharoplasties this past year. Plastic surgeons remove not only skin and fat but also suspend the lower lid to its more youthful position. And now, through the same upper eyelid incision, the brow can be tacked into a higher position, as well.

Be careful about overdoing your eyelids. Some people think they want every speck of extra skin removed, but it can't be put back if too much is taken, so a little should be left behind to be on the safe side. And leaving a little skin will make you look more natural. Most "blephs" are done with you awake but groggy. Afterward, you'll look like you went three rounds with Ali. It takes nearly two weeks to look good again, but your eyes should sparkle.

If you have dry eyes or very loose lower lids, you're at high risk for the complication called an "ectropion" if you have your lids lifted, leaving you resembling a basset hound. To avoid this complication, your lower lids might need a tightening procedure called a canthopexy (no clever marketing surgeon has come up with a catchy name for this one) along with skin and fat removal. Don't let the 1-in-10,000 chance of blindness from this surgery scare you away; a good surgeon who also properly evaluates your medical issues should be able steer you clear of problems.