The prognosis for isolated craniosynostosis which is not part of another craniofacial syndrome is very good. Most children will require one surgery as an infant and do not need further treatment from there. Children who have craniosynostosis along with a craniofacial syndrome require specialized care. A craniofacial plastic surgeon will assess this at the child's evaluation and if needed connect the parents with additional resources specific to the child's condition.
The prognosis for craniosynostosis varies depending on whether single or multiple cranial sutures are involved, or other abnormalities are present. The prognosis is better for those with single suture involvement and no associated abnormalities.
This answer is based on source information from the National Institute of Neurological Disorders and Stroke.
Continue Learning about Birth Defects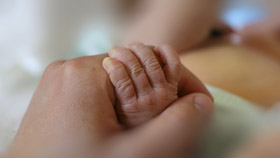 The cause of most birth defects is unknown, though genetics and environmental factors can play a role. While prenatal tests can detect some birth defects, many are not found immediately. Some birth defects can be prevented by taki...
ng vitamins with folic acid before conception and avoiding known contaminants such as smoking, alcohol and illegal drugs.
More