Cleft lip is considered a birth defect, meaning the defect is present before the baby is born. This type of defect is an opening or split of the upper lip. Some babies with a cleft lip have a small notch in their upper lip. Others have a larger opening or hole that goes all the way to the bottom of their nose. In some cases, a cleft lip can be seen on an ultrasound, an imaging test doctors use to check on the baby during pregnancy.
A cleft lip is a split or division of the two sides of the upper lip. It includes skin, mucosa, and muscle of the upper labrium. The separation may also include the nasal base, and may extend to the bones of the upper jaw and gingival mucosa. Cleft lip may be unilateral or bilateral (on two sides) of the philthrum. The incidence is 1 in 700 births. The specific etiology is unknown. May be environmental and genetic factors involved in cleft lips and palates.
Continue Learning about Birth Defects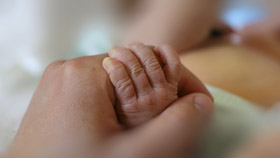 The cause of most birth defects is unknown, though genetics and environmental factors can play a role. While prenatal tests can detect some birth defects, many are not found immediately. Some birth defects can be prevented by taki...
ng vitamins with folic acid before conception and avoiding known contaminants such as smoking, alcohol and illegal drugs.
More