What are congenital malformations of the brain and spine?
There are numerous congenital malformations that can affect the brain and spine. Congenital abnormalities are defined by being present at birth. These include developmental variations of bone, soft tissue, brain and spinal cord.Some of these malformations are mild and don't require treatment while others are severe and most often require surgical treatment by a pediatric neurosurgeon. Some of the most common malformations include Chiari malformations, spina bifida, encephaloceles and arachnoid cysts.

Congenital malformations are abnormal formations of the bone and soft tissue of your child's head and spine. These malformations occurred before birth and are correctable with surgery by a pediatric neurosurgeon.
Other congenital malformations of the brain and spine include:
Chiari malformation -This is a condition in which portions of the brain, the cerebellar tonsils protrude, into the upper spine, compressing the brain or spinal cord. Left untreated, this condition can lead to:

Neck pain
Hoarseness
Upper-respiratory tract infections
Progressive weakness of the arms and legs
Chiari malformation also may block the flow of cerebrospinal fluid (CSF), leading to hydrocephalus (buildup of CSF around the brain). Treatments often focus on removing portions of the bone and soft tissue to relieve pressure on the spinal cord and brain, as well as providing new pathways to drain CSF.
Encephaloceles-This condition is similar to chiari malformation but affects the brain or cerebrospinal fluid the between the nose and the front or back of the head. It can lead to infections and hydrocephalus. Surgical treatment of this condition involves removing bone and soft tissue or drainage of CSF.
Arachnoid cysts-Arachnoid cysts are the most common type of brain cyst. They are congenital lesions that occur as a result of the splitting of the arachnoid membrane. The cysts are fluid-filled sacs, not tumors, appearing in one of the three layers of tissue covering the central nervous system.
Continue Learning about Birth Defects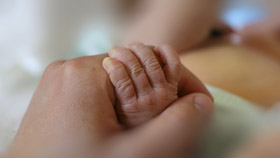 The cause of most birth defects is unknown, though genetics and environmental factors can play a role. While prenatal tests can detect some birth defects, many are not found immediately. Some birth defects can be prevented by taki...
ng vitamins with folic acid before conception and avoiding known contaminants such as smoking, alcohol and illegal drugs.
More