There are numerous congenital malformations that can affect the brain and spine. Congenital abnormalities are defined by being present at birth. These include developmental variations of bone, soft tissue, brain and spinal cord.Some of these malformations are mild and don't require treatment while others are severe and most often require surgical treatment by a pediatric neurosurgeon. Some of the most common malformations include Chiari malformations, spina bifida, encephaloceles and arachnoid cysts.

Continue Learning about Birth Defects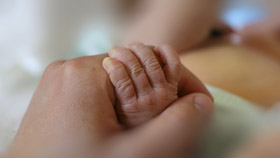 The cause of most birth defects is unknown, though genetics and environmental factors can play a role. While prenatal tests can detect some birth defects, many are not found immediately. Some birth defects can be prevented by taki...
ng vitamins with folic acid before conception and avoiding known contaminants such as smoking, alcohol and illegal drugs.
More