All drinks containing alcohol can hurt an unborn baby, even beer and wine coolers. A standard drink is defined as .60 ounces of pure alcohol. This is equivalent to one 12-ounce beer or wine cooler, one 5-ounce glass of wine, or 1.5 ounces of 80 proof distilled spirits (hard liquor). Some alcoholic drinks have high alcohol concentrations and come in larger containers (22-45 ounce containers). There is no safe kind of alcohol. If you have any questions about your alcohol use and its risks to your health, talk to your health care provider.

The presence of the CDC logo and CDC content on this page should not be construed to imply endorsement by the US Government of any commercial products or services, or to replace the advice of a medical professional. The mark "CDC" is licensed under authority of the PHS.
Continue Learning about Birth Defects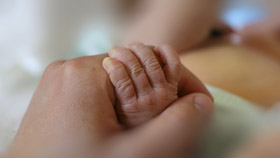 The cause of most birth defects is unknown, though genetics and environmental factors can play a role. While prenatal tests can detect some birth defects, many are not found immediately. Some birth defects can be prevented by taki...
ng vitamins with folic acid before conception and avoiding known contaminants such as smoking, alcohol and illegal drugs.
More