Is there a link between birth-control pills and eye problems?
Rarely, birth-control pills have been associated with several eye conditions involving the blood vessels of the eye. However, there is no proof of a direct link between birth-control pills and eye disease in most women, and the risk of eye problems appears to be very low. Whatever risk there may be is increased by smoking and high blood pressure. There is no association between birth-control pills and myopia.
Continue Learning about Birth Control Pill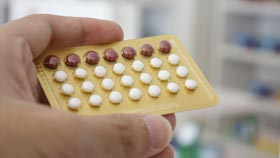 Birth control pills contain estrogen and progesterone to suppress ovulation and prevent pregnancy. Common side effects include bleeding between periods, nausea, weight gain, breast tenderness, mood changes and mild headaches. The ...
birth control pill is one of the most popular and effective contraceptive methods available. When taken correctly -- at the same time every day -- they are 99% effective at preventing pregnancy.
More