Can birth control pills cause weight gain?
Lots of women suspect that the pill makes them put on weight, but studies show something different, gynecologic oncologist Dr. Judith Wolfe tells Dr. Oz. In this video, she explains what's behind the weight gain that women blame on the Pill.
Dr. Oz - does pill gain weight
This is such an important question! About 75% of people, including health care providers, think that birth control pills cause weight gain. Yet when two groups of women are given pills, with one group taking hormonal contraception or birth control, and the other group taking placebos, the weight changes in each group are the same. The majority of women don't change weight. An equal portion in each group have weight gain, and an equal but smaller portion in each group lose weight. So, if that's true, why do so many people think birth control makes them gain weight?
One reason could be that there is a natural fluctuation in weight during the menstrual cycle. Women typically gain 2 to 4 pounds prior to their menstrual period, and then lose these pounds after the period. Women on the stable hormone levels of birth control pills may not see this fluctuation and believe they have simply gained a few pounds. It should be reassuring that this weight is primarily increased fluid volume, not fat.
Another biologically plausible explanation is related to the progestin in birth control pills. Women naturally make progesterone right before their menses. Another time in a woman's life where progesterone is the dominant female hormone is the first three months of pregnancy. Many women report increased appetite during these times. It is possible, but we don't have enough research to say for sure, that the continuous dose of progestin in birth control pills affects some, but not most, women by causing an increase in appetite. Of course, what she does with that appetite is up to her. If she increases her intake of vegetables and fruit, she's not likely to see weight gain. If she increases her intake of high calorie snack foods, her results may not be as good!
Continue Learning about Birth Control Pill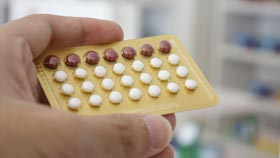 Birth control pills contain estrogen and progesterone to suppress ovulation and prevent pregnancy. Common side effects include bleeding between periods, nausea, weight gain, breast tenderness, mood changes and mild headaches. The ...
birth control pill is one of the most popular and effective contraceptive methods available. When taken correctly -- at the same time every day -- they are 99% effective at preventing pregnancy.
More