Psychotic delusions in bipolar disorder are far-fetched, highly unrealistic, even bizarre beliefs—for example, the belief that one has been chosen as a special messenger of God to save the world, or the belief that one has been cursed by Satan. One version of delusions is referred to as somatic delusions (seen more often in severe depression) where the mistaken belief involves the body or one's health, such as believing that one's internal organs are rotting. With delusions, such a belief is unshakable, and the person completely loses the ability to recognize that their thinking is irrational. When delusions are present, it is near to impossible to reason with the person; their capacity for critical thinking is generally quite impaired.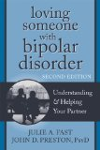 Continue Learning about Bipolar Disorder

Bipolar disorder, also called manic depression, is characterized by extreme mood swings from lethargy and depression to hyperactivity and impulsiveness. Learn more from our experts about bipolar disorder.