Keeping a journal can seem like a lot of work at first, but it is an essential part of your partner's holistic treatment for bipolar disorder. The ideas and lists you write in this journal will become the basis for your treatment plan. Here are some of the many good reasons for using a journal to help you create a new treatment plan for bipolar disorder:
You are a student and students take notes.
Writing and drawing in a journal allows you to say things you would never say out loud; journals are private.
Journals help you get some perspective on what is you and what is bipolar disorder.
Journals let you cry and complain without bothering other people; journals don't hurt other people's feelings.
Journals are a very safe place to explore very serious topics.
Writing things down helps you prevent fires instead of having to put them out all of the time.
Journals help you create a plan; plans loosen the control bipolar disorder has on your relationship.
The pen is mightier than the sword and bipolar disorder has a really big sword.
Your journal can be your friend when your partner is too ill to be the friend you need.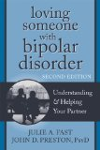 Continue Learning about Bipolar Disorder