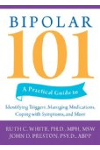 Some questions you may want to ask your doctor when discussing bipolar medication with your mental health provider are as follows:

1. Why am I taking this medication rather than any of the other medications that could be prescribed for this condition?
2. What are some of the side effects I will likely experience, and is there anything I can do to alleviate or prevent some of them from occurring?
3. Are there any possible interactions among the medications that I'm already taking? Is there any way to alleviate or prevent these interactions? Would substituting another medication alleviate or eliminate these interactions?
4. Are there any nutritional supplements, dietary considerations, or behavioral changes that could reduce my dependence on a particular medication?
5. Are there any foods or activities I should avoid while taking these medications?
6. Please give me complete medical information on all the medications you're prescribing for me (if this was not already done or you no longer have that information).