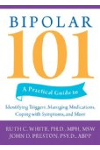 To take your bipolar medications as prescribed and trust that they'll work, you must know the medications you're taking and their possible side effects so you can distinguish medication side effects from other medical problems you may have and from symptoms of the illness itself.

In addition to asking your healthcare provider, you can do your own research on your medications. One good source of information is the online version of the Physicians' Desktop Reference (PDR) (also found in print at your local library). The PDR is based on information provided by the U.S. Food and Drug Administration (FDA). Simply typing in the name of your medication will get you other names, side effects, actions, indications, how the medicine is supplied, special warnings, and possible food and drug interactions. It's easier to search by brand name than the generic name of the medication. There's also a picture of the medication. For example, when searching for lithium, the PDR shows Eskalith (one of the trade names for this chemical) and lets us know that it's available in pill and capsule form.

Another resource is the Consumer's Guide to Psychiatric Drugs (Preston, O'Neal, and Talaga 2009), or A Concise Guide to Medical Treatment for Bipolar Disorder in Adults and Adolescents (a Kindle eBook), which describes medical treatments for bipolar disorder in detail.