The importance of getting a correct diagnosis of bipolar disorder and seeking treatment immediately cannot be understated. The disorder affects not only an individual, but the families, friends, and colleagues around them. Effective treatment can change lives, as echoed by a 2005 global survey conducted by the World Federation for Mental Health:
The vast majority (79%) of those with the disorder in all countries say successful treatment would lead to significant quality of life changes in terms of increased functionality/improved lifestyle such as maintaining a job, having relationships, living independently, and achieving goals. Seeking diagnosis and treatment for yourself, or someone you love who may have Bipolar Disorder, will significantly improve the quality of life.
People with bipolar disorder can lead healthy and productive lives when the illness is effectively treated. Without treatment, however, the natural course of bipolar disorder tends to worsen. Over time a person may suffer more frequent (more rapid-cycling) and more severe manic and depressive episodes than those experienced when the illness first appeared. But in most cases, proper treatment can help reduce the frequency and severity of episodes and can help people with bipolar disorder maintain good quality of life.
Getting treatment for bipolar disorder is something you do for yourself. It's also something you do for your coworkers, those living with you, your loved ones, and those who interact with you every day. Time and time again, people put off seeking treatment, but generally the longer the illness goes untreated, the more difficult it is to treat. This is why it's important to get professional help as soon as possible.

Getting effective treatment for bipolar disorder is something you do to give yourself the life you deserve. With proper treatment, you get the chance to make plans and see them through. You can enjoy your life without worrying about getting through each day. You may find that in focusing on treating and managing your bipolar disorder, many of the other problems in your life go away. Relationships with family, loved ones, and coworkers will all improve. Reducing episodes will also save you money on treatment so you can focus on developing your career, building skills through training and education, and pursuing other life goals. You may still experience less severe manias, but now it may result in interesting ideas that you can more easily implement than in the past. If people who are successfully treated with bipolar medications don't stop having episodes altogether, they have them less frequently and less severely. Other benefits of developing and implementing healthy lifestyle changes may be weight loss and improvement of health and overall quality of life.

However, treatment can also mean taking medications with side effects that may bother you. You may miss some of the highs of mania and the bursts of creative energy. You may have to reduce your intake of coffee and skip your late-night glass of wine. At the same time, you may get to smile more often and suffer less from depression and damaging manic episodes. The benefits of treatment far outweigh the pain, suffering, and risks of going untreated.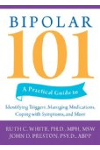 Continue Learning about Bipolar Disorder Treatment