Unless safety dictates otherwise, bipolar disorder medications should be introduced one at a time, adjusted carefully to optimize their effect, and given enough time to work prior to adding other medications. The reason for this is simple. If the physician is introducing multiple drugs quickly, he can't tell which of them is working or which of them is causing any specific side effect.
Continue Learning about Bipolar Disorder Treatment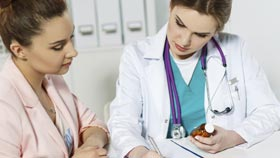 The main treatment options for bipolar disorder include a combination of mood-stabilizing medication, psychotherapy and lifestyle changes to reduce stress and improve diet and exercise. Medications are used to stabilize your mood ...
and to help moderate the depression and/or mania associated with bipolar disorder. While there is no cure for bipolar disorder, proper treatment can help even those with the most serious forms of the condition effectively control mood swings.
More