It is very important not to repeatedly go on and off your bipolar disorder medications, as sometimes the drugs don't work the second time around after being discontinued. This is particularly important in a difficult-to-treat form of the illness and if multiple medications were tried before you became stable. You can lose your response and have few alternatives available, all because the medication was stopped.
If you have bipolar disorder, long-term stability depends on maintaining medication treatment continuously. Those who don't do well are almost invariably people who stop taking medications or take them intermittently or at lower doses than prescribed.

The reality is that many of these medications have significant side effects. Please be very open with your treating doctor about any questions you have regarding side effects. Don't just stop taking medications; this often results in disasters due to the high chance of developing a new manic, depressed, or mixed episode. Often medications can be changed or the dose adjusted to minimize side effects. You are a partner in your treatment with your prescribing doctor. You have a right to bring up any concerns that may arise.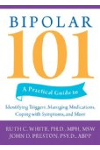 Continue Learning about Bipolar Disorder Treatment