Most psychiatrists are well trained to diagnose and initiate treatment of bipolar disorder. If one is unfamiliar with community psychiatric resources then a good place to start is with one's primary care physician. He or she can often make a referral to a qualified mental health professional. If one doesn't have a primary care physician, seeking help through a county mental health facility will also provide assessment by a qualified mental health professional.
Worldwide, help for bipolar disorder is available in many different places, including:
National, regional or provincial health clinics providing mental health care
Mental health non-governmental organizations (NGOs)
Mental health specialists, such as psychiatrists, psychologists, social workers, or mental health counsellors, where available
Religious leaders/counsellors
Traditional healers in the local community
Hospital psychiatry departments and outpatient clinics
University or medical school affiliated programs
Hospital or hospital outpatient clinics
Social service agencies
Private clinics and facilities
Employee assistance programs in the workplace
Local medical or psychiatric societies
Your first step in diagnosis and treatment of bipolar disorder should begin with your primary care provider. They can adequately diagnose and in many cases treat this illness. If your provider feels it is necessary they can make the appropriate referral to inpatient care if needed, or outpatient treatment, depending on the severity.
Continue Learning about Bipolar Disorder Treatment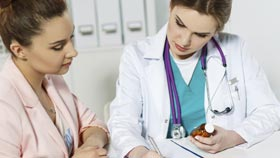 The main treatment options for bipolar disorder include a combination of mood-stabilizing medication, psychotherapy and lifestyle changes to reduce stress and improve diet and exercise. Medications are used to stabilize your mood ...
and to help moderate the depression and/or mania associated with bipolar disorder. While there is no cure for bipolar disorder, proper treatment can help even those with the most serious forms of the condition effectively control mood swings.
More