You may ask your doctor to change your bipolar depression medication if you are pregnant, still experiencing symptoms, or having side effects. Watch psychiatrist Amanda Itzkoff, MD, explain why it's key to talk with your doctor about your treatment.
Some people with bipolar disorder find that the number of pills they have to take and the importance of taking certain pills at certain times of day can be frustrating. It's easy to forget to take a dose, which may begin to trigger manic or depressive episodes. Daytime drowsiness is a major problem with many mood stabilizers and often interferes with compliance because it gets in the way of daily responsibilities, such as work, chores, child care, and so forth.

If you find that you have trouble remembering to take your prescribed doses at certain times of day or that certain medications have negative effects at certain times of day (for example, you feel drowsy in the morning after taking lithium), speak to your provider about rearranging your medication schedule to better fit your lifestyle. You may be able to take different dosages at different times of day, change your medications to alleviate daytime drowsiness, or change medications altogether.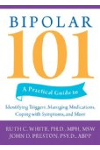 Continue Learning about Bipolar Disorder Treatment