Your goal is to create a foundation for treating your partner's bipolar disorder slowly and calmly; one that focuses on prevention instead of crisis control. Remind yourself to focus on the solution, not the problem. Problems are immediate—solutions take time. Here are some of the qualities you will need while you are creating your holistic treatment plan:
An open mind and the willingness to try new ideas to treat an old problem.
Enough time to learn a new way to live with bipolar disorder.
The courage to grieve the loss of some of the hopes and dreams you had for your relationship, while simultaneously taking decisive action to improve the relationship.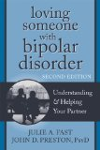 Continue Learning about Bipolar Disorder Treatment