The foundation for treatment of bipolar disorder is a mood stabilizer. Mood stabilizers are medications that have been shown to prevent future highs and lows. The traditional antidepressants have never been shown to prevent depressive episodes.
Continue Learning about Bipolar Disorder Treatment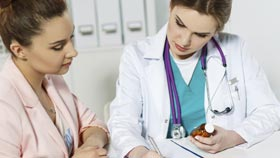 The main treatment options for bipolar disorder include a combination of mood-stabilizing medication, psychotherapy and lifestyle changes to reduce stress and improve diet and exercise. Medications are used to stabilize your mood ...
and to help moderate the depression and/or mania associated with bipolar disorder. While there is no cure for bipolar disorder, proper treatment can help even those with the most serious forms of the condition effectively control mood swings.
More