Once you've received a diagnosis of bipolar disorder, no matter whether it's the first or third visit, you'll want to ask your doctor certain questions that will provide you with the information you need to understand the nature of your relationship with him or her and what's required for your treatment plan. Your doctor will give you information that helps you weigh the risks and benefits of various treatments and know what to expect from them:

1. Now that I've been diagnosed with bipolar disorder, what's the next step?

2. What can I expect from treatment in the short and long term (for example, one month, six months, a year, and five years)? What's a realistic goal for me, considering the type and severity of my condition?

3. What methods will be used to treat me?

4. What will this treatment cost?

5. Are there any lifestyle changes I should make that will increase the success of my treatment and reduce the frequency and severity of my symptoms?

6. What method of psychotherapy would you recommend? Are there any support groups you would recommend for someone in my situation?

7. If you're prescribing medications, what are the possible side effects, and how can I ameliorate or prevent these? Is there another medication that would offer the same benefits with different side effects? What should I do if I miss a dose or two?

8. Are you available for consultation by phone or e-mail? If not, is there someone else I can call if I have questions in between office visits? Whom should I call in case of an emergency?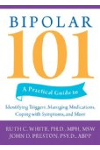 Continue Learning about Bipolar Disorder Treatment