You should take them as directed by your doctor. Some medications are taken once a day, some up to three times a day, some with food and some on an empty stomach. Therefore it is important to ask the prescriber how they intend you to take it.

Answered by Thomas Jensen MD
Medication is essential to making you feel better. Because of bipolar disorder's shifting moods, more than one medication is needed to help you stay well. And, as time passes, these medications may need to be adjusted, and some may need to be changed due to side effects. But do not stop taking medication without first talking to your doctor. Remember that every person responds differently to medications, and what works for others may not work for you. Track the medications you are taking in a diary, which will help determine if the medications are working for you.
Continue Learning about Bipolar Disorder Treatment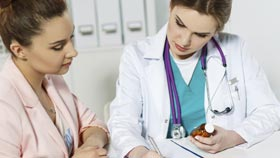 The main treatment options for bipolar disorder include a combination of mood-stabilizing medication, psychotherapy and lifestyle changes to reduce stress and improve diet and exercise. Medications are used to stabilize your mood ...
and to help moderate the depression and/or mania associated with bipolar disorder. While there is no cure for bipolar disorder, proper treatment can help even those with the most serious forms of the condition effectively control mood swings.
More