The goal of this exercise is to educate you (and inform your mental healthcare provider) about all the medications you're taking, whether for bipolar disorder or other conditions. For each drug you're taking, you'll record some detailed information. You can use a table format or simply have a paragraph for each drug. Here's the information you'll record:

1. What's the chemical (generic) name of the medication?
2. What's the brand name (if applicable; that is, if it's not a generic drug) of the medication?
3. How much of the medication are you taking? (For example, the number of pills you take each time you take the medication and the amount of medication in each pill)
4. How often do you take the medication? (For example, twice a day or every four hours and so on)
5. What's the health problem for which this medication was prescribed?
6. How long you have been taking this medication?
7. What side effects do you think you may be experiencing as a result of taking this medication?

Bring your answers to your prescribing provider so that possible interactions can be avoided and prescribing can be based on as much information as possible. Be honest in reporting your compliance with medications, because if it's prescribed but you aren't taking it, this must be taken into account when new prescriptions are made or when your medical provider tries to understand the nature of your symptoms. If you've taken other drugs previously for the same condition, it would be useful to list the names of the drugs you took prior to the current one and why you stopped taking them. Finally, also answer these questions for any alternative medications or nutritional supplements you're taking. All this information helps develop the medication regimen that works best for you.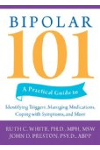 Continue Learning about Bipolar Disorder Treatment