Here are some tips on how to involve your partner in the treatment process for bipolar disorder:
Start the new plan yourself. As your partner sees you change and become more focused and stable, they will hopefully want the same for themselves.
Model your new behavior so your partner can follow you. Bipolar disorder takes a lot out of your partner. Sometimes it feels impossible for them to do anything that takes effort. They will appreciate the help.
Involve your family and friends and teach them the new techniques.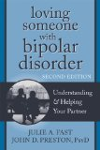 Continue Learning about Bipolar Disorder Treatment