Bipolar disorder is complex. These days in the psychiatric literature it's popular to refer to "bipolar spectrum disorders," as there appear to be a number of related conditions that share some common features. All variants of bipolar disorder include the following features:
These mood changes are episodic, meaning that they are generally not continuous but come in fairly separate bouts with measurable time in between. (Rapid cycling is the exception to this.)
Bipolar disorder is due primarily to a biological abnormality involving changes in brain chemistry. The illness is typically lifelong and doesn't simply disappear one day. Without appropriate treatment it can become progressively more severe.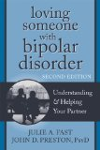 Continue Learning about Bipolar Disorder Symptoms