Bipolar disorder can cause depression, which is more than just sadness or feeling down. Major symptoms to look out for include:
loss of energy
withdrawing from activities that your child used to love
feelings of worthlessness
irritability
crying spells
sleeping too much or problems sleeping
lack of joy and pleasure in life
dramatic change in weight
loss of appetite or increase in appetite
drop in grades or difficulty concentrating.
Talk to your child's doctor about these symptoms and any change in symptoms.
The symptoms of depression in children with bipolar I and bipolar II disorder may include: a very sad mood that lasts for days with no relief; having no interest in normal childhood activities; having feelings of hopelessness, worthlessness, and helplessness; feeling guilty for no reason; talking about pain, such as stomachaches, headaches or general body aches; exhibiting a change in eating habits; getting too much sleep or not enough sleep; sleeping too much and still feeling exhausted and sad: feeling irritable and angry; having no energy; having recurring thoughts of suicide.
The most common symptoms of the manic side of bipolar disorder include irritable or elated mood, racing thoughts, rapid speech, grandiosity and sleep disturbance without feeling tired. These phases are often followed by periods of severe depression, hopelessness, suicidal thoughts or actions, insomnia and fatigue. Depression tends to become more common during and after puberty, particularly among girls. Children with mood disorders are also at greater risk for co-occurring problems, such as anxiety disorders, attention-deficit disorder, disruptive-behavior disorders, substance abuse and attempts at self-harm and suicide.
A depressive episode of bipolar disorder has the following symptoms:
Intense sadness or despair. You feel helpless, hopeless, and worthless.
No interest in activities you once enjoyed. Your favorite things hold little interest and don't cheer you up.
Loss of energy. You're tired and weary. It's hard to force yourself to do anything. You move slowly.
Sleep difficulties. You sleep all the time -- or not at all.
Changes in appetite. You're more or less hungry than usual. You gain a lot of weight -- or lose weight without dieting.
Difficulty concentrating. Your mind wanders. You have trouble remembering things or making decisions.
Thoughts of death or suicide. You don't see the point of living. You wonder if you should end everything.
The symptoms of depression or a depressive episode in bipolar disorder include:
frequent sadness, tearfulness, crying or persistent irritability
a decrease in interest in activities that used to be interesting, or an inability to enjoy those activities
a sense of boredom, feelings of hopelessness, feeling worthless or feeling inappropriately guilty
decreased energy
social isolation and withdrawal from others
feeling sensitive to perceived or real rejection or failure
low self esteem, anger, or hostility
trouble concentrating
poor school performance
changes in eating habits with an increase or decrease in weight
changes in sleeping habits, with an increase or decrease in sleep duration, headaches, stomachaches or other physical complaints
thoughts of death and/or suicide.
For a diagnosis of depressive episode in bipolar disorder, five or more of the symptoms listed below must last most of the day, nearly every day, for a period of two weeks or longer:
Lasting sad, anxious, or empty mood
Feelings of hopelessness or pessimism
Feelings of guilt, worthlessness, or helplessness
Loss of interest or pleasure in activities once enjoyed, including sex
Decreased energy or a feeling of fatigue or of being slowed down
Difficulty concentrating, remembering, or making decisions
Restlessness or irritability
Too much sleep or inability to sleep
Change in appetite and/or unintended weight loss or gain
Chronic pain or other persistent bodily symptoms not caused by physical illness or injury
Thoughts of death or suicide, or suicide attempts
Although everyone has low feelings at times, clinical depression is chronic and can be severe, moderate, or mild. In its most severe form, it can be dangerous, because it often precedes suicidal thoughts or actions. It is depression that often brings people into treatment because of the difficulty in functioning that pervades one's life. When mild forms of depression are chronic, it is called dysthymia. (Though mania can also lead to suicidality, mania is also marked by denial, which makes it less likely for someone to seek treatment.)
One bipolar patient described a depressive episode like this: "I am tortured by my thoughts, stuck on the theme of death—my death. I want to be dead … I've had three crying spells this evening, triggered by nothing but overwhelming sadness."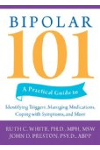 Signs and symptoms of depression (or a depressive episode) include:
Lasting sad, anxious, or empty mood
Feelings of hopelessness or pessimism
Feelings of guilt, worthlessness, or helplessness
Loss of interest or pleasure in activities once enjoyed
Decreased energy, a feeling of fatigue or of being "slowed down"
Difficulty concentrating, remembering, making decisions
Restlessness or irritability
Sleeping too much, or can't sleep
Change in appetite and/or unintended weight loss or gain
Chronic pain or other persistent bodily symptoms that are not caused by physical illness or injury
Thoughts of death or suicide, or suicide attempts
Continue Learning about Bipolar Disorder Symptoms