Some triggers of bipolar disorder symptoms may be environmental or circumstantial. Here are some examples:

- High levels of stress, which can trigger either mania or depression.
- Excessive stimulation, which is more likely to trigger mania.
- Menstruation, which impacts each woman differently.
- Abnormal levels of thyroid hormones.
- Changes in seasons and their accompanying light fluctuations, with mania more likely in the summer and depression more likely in the winter.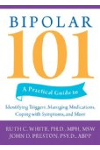 Continue Learning about Bipolar Disorder Symptoms